I drafted a corset pattern that I think will work for me! After holding multiple paperboard patterns up to myself and shaving off corners and building up curves, I've finally got something that looks like it will be a good fit. However, before I make a mock-up, I have to decide if I want to add a bit of a curve to the front to support my bust. Originally I took for granted that I would do this, but as I was holding a piece of rather stiff paperboard up to myself, it occurred to me that I may not have to sacrifice the Tudor-style flat front for support. I have had luck with lacing myself very tightly into flat-front bodices before, although I will admit I often had to re-adjust the Ladies on the sly a couple of times throughout the day. A bit of a dip beneath the bust would probably help avoid this problem, but I am concerned about not have as "accurate" a silhouette, and about having to match that curve on every gown I make from here on out to wear over this foundation garment. That being said, there is evidence of a bit of shaping around the bust in the period I am immediately focusing on (1530's-1540's), at least in Holbein's work. And I don't know why, but I trust him more than other painters of the period; he seems to pay more attention to portraying things as they were, rather than in an idealized manner. His attention to detail leads me to believe that this shaping around the bust is accurate to how the clothing fits, although this is all purely speculation. It doesn't *really* tell us anything, other than that he painted women this way.
FYI, I don't own any of these portraits; I've found them online. These are all by Hans Holbein.
Jane Seymour: See the shading around the bust and the curve at the side of the bodice?
Another curve at the bust, courtesy of Holbein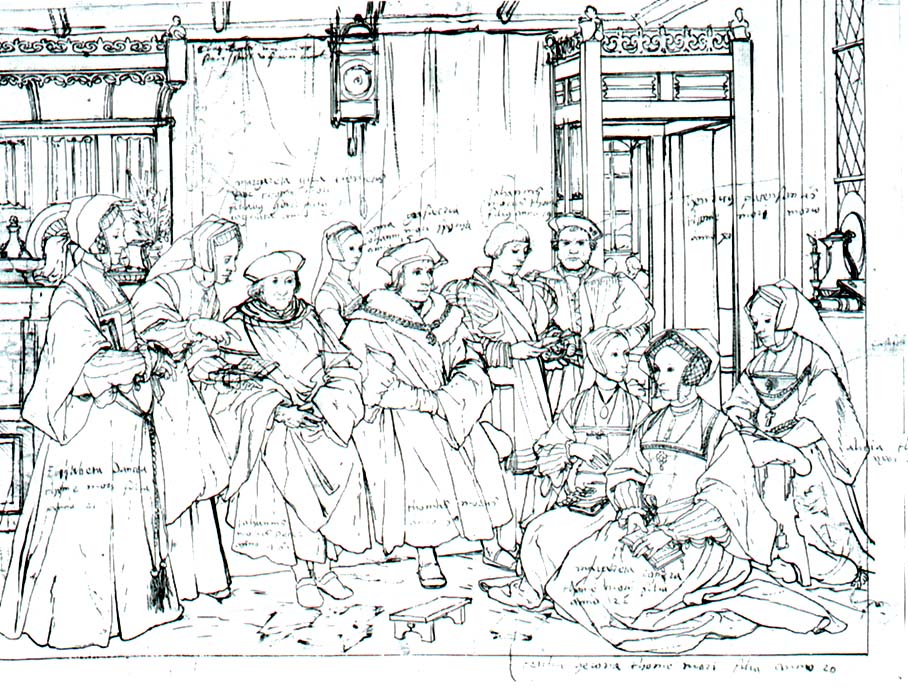 Sketch of Thomas More's Family: Check out the women on the right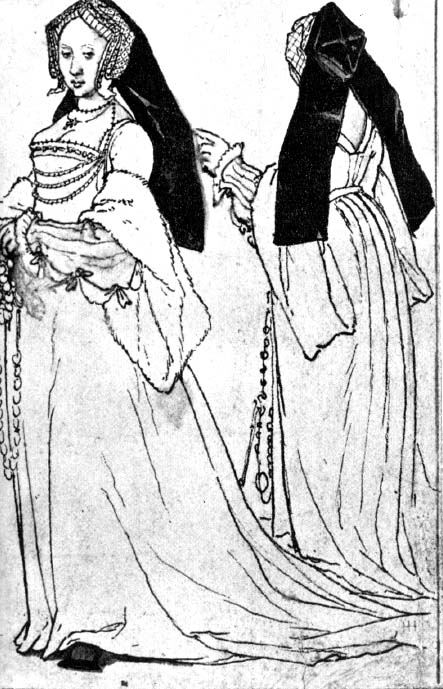 This one doesn't show the garment following the curve of the bust, but it does show some major cleavage and a lower neckline, which is helpful in its own right; boobs acted the same when compressed then as they do now! Because I'm telling you, there's no way you're putting me in a tight, flat-front corset and getting demure Anne Boleyn decolletage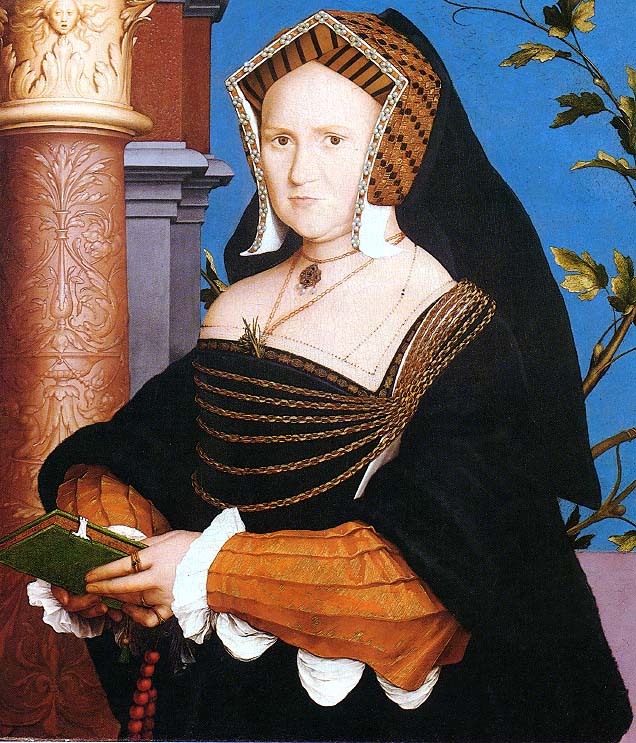 Lady Guildford: More evidence that the ample cleavage produced by a flat-front bodice is natural and not entirely "non-period". Although I'm still against the Ren-Faire bodice "affected" cleavage effect.
Maybe I am getting too caught up on the "accurate silhouette" part of things; in fact, in lots of Holbein's work from the 1530's, you'll see shading and highlighting suggesting a swell for the bust, and 3/4 profile works often demonstrate a dip between the swell of the belly and swell of the breasts, especially on non-Royal sitters and fuller figured women (take a look at the images above). It's hard to say whether this is because a pair of bodies was fitted to the wearer's shape, or because there was no foundation garment at this point in time, and the stiffened bodice was not enough to rigidly re-shape the sitter's curves. At any rate, I hope to make this "catch-all" corset (it's not really accurate to any of the existing pairs of bodies we have from the end of the sixteenth century, much less any of the speculative foundation garments that are considered most likely for the Henrician period) work all the way up through the 1570's, and that bosomy swell tends to disappear from portraits around the 1540's, as far as I can tell. Looking at these grouped together, I tend to think that women who were wearing highly stiffened bodices ended up with a flat fronted bodices and compressed bosoms that moved upwards, producing cleavage, and that the women with the curvier fronts that we see are not wearing any sort of highly stiffened foundation garments, just a couple of thick layers of fabric for their kirtle and gown.
So, where does this leave me? I think I may try mocking up a flat-front corset and seeing if that is feasible; I can't stand the idea of having a fold under my bust on gowns with no center front shaping seam, and I really want to be able to use this corset for more than just the one gown I am making along with it. That being said, if I don't have luck with that design, I don't think I will feel guilty if I add a little bit of an inward curve to bring the corset back against the rib cage beneath the bust to help support it.
What do you guys think? Anyone out there tried this? By the way, I should probably add that I am working with
Sempstress' Curved Front Corset
as my model for the curved front I have been referring to. She seems to have had very flattering, comfortable results with it.